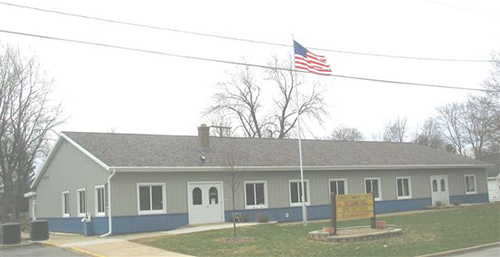 Groundbreaking for the Oconto Falls Senior & Community Center was held April 23, 1980. Members of the center's first board of directors were Jim Hertwig, a city alderman and chairman of the committee; Bea Michaels, vice chairman; Judy Elliott, secretary and treasurer; and Martha Bain and Arnold Reinke. Shortly after the board was formed, it received federal, state, and local grant funds and held a fundraising campaign to raise additional money for the ambitious project. A dedicated group of citizens held fundraisers and bazaars and canvassed the city looking for donations.
At the time of its construction, 18% of Oconto County's population was 65 or older, which was one of the highest percentages for Wisconsin counties at the time.
The city of Oconto Falls donated land at Memorial Field for the building site, and volunteers played a big role in completing the project. The 50,000 square feet of floor space was divided into a main activity area, full kitchen, offices, an arts and crafts room, bathrooms, and storage areas. The building has a full basement. Dedication ceremonies and a tour of the center were held on Sunday, August 23, 1981.
A second fundraising campaign was launched in 2007 to raise funds for renovations at the center. This campaign raised over $40,000 for replacement of windows, doors, and exterior siding, plus insulation, wiring, landscaping, roof and chimney repair, and more. The center held an open house on August 11, 2007, to thank volunteers and celebrate all that had been accomplished.
Phase II of the renovation project focused on the interior of the building — painting, window treatments, ceiling tiles, lighting, floors, and bathrooms. A grand reopening ceremony and open house were held on June 7, 2009, to showcase the remodeled look.
Since its opening, the Oconto Falls Senior & Community Center has hosted various gatherings for private individuals, nonprofit organizations, and businesses. The center, located at 512 Caldwell Avenue, Oconto Falls, is home to the Oconto County Commission on Aging meal site and The Caring Tree Adult Day Center. With its large multi-purpose room and on-site parking, the building lends itself well to all sorts of gatherings. The center is available to rent at a reasonable fee.